About Melody
Melody Gilbert is an award-winning independent documentary filmmaker who has directed and produced non-judgmental, character-driven stories for film and television for more than 20 years. The Documentary Channel calls her "one of the most fearless filmmakers in contemporary documentary cinema." She has made five independent feature-length documentaries in the past seven years: FRITZ: THE WALTER MONDALE STORY (2008), URBAN EXPLORERS: INTO THE DARKNESS (2007), A LIFE WITHOUT PAIN (2005), WHOLE (2003) and MARRIED AT THE MALL (2002). All of her films have screened at major film festivals, in theaters and on television worldwide, including the Sundance Channel and on dozens of television networks internationally such as TF5 (France), YLE (Finland), RTL (Germany) and more.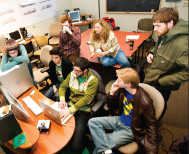 Melody produces, directs, and shoots (and sometimes edits) all of her films. As an executive producer and professor at Carleton College, she worked with film students to create the documentary DISCONNECTED in 2008 (click
here
to access the DISCONNECTED website).
Download full bio
Educator
In 1996, Ms. Gilbert started teaching broadcast journalism and documentary production at the University of Minnesota's School of Journalism and continues to teach students how to make documentaries when she is not making her own. She has taught at Carleton College, IFP, College of Visual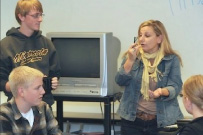 Melody teaching a high school workshop about documentary filmmaking Arts, Walker Art Center and in Romania and Kyrgyzstan. In 2001, she formed her own company, Frozen Feet Films, and has been an independent director/producer since and continues to teach as the opportunities arise.
" Melody's teaching is infectious and her approach to documentary—from first idea to distribution—is a winner." -John Schott, Chair of Cinema and Media Studies, Carleton College

"Our audience loved Melody Gilbert as our Guest Filmmaker. Her enthusiasm lit up the place." —David Siegler, Big Water Film Festival

"Melody's hands-on teaching style allowed me to instantly put her teachings into practice. " -Mitchell Lundin, Carelton College student

"Melody Gilbert entertained, informed and inspired us with her films and her lively banter." —Julie Buckles, Workshop participant


Master Classes/Public Speaking
Melody Gilbert is available to teach master classes and workshops including:
Everything I Know About Documentary Filmmaking... in 30 minutes or less!
Melody's Top Ten Documentary Filmmaking Tips
Documentary "Boot Camp"
The Truth About Film Festivals
Backpack Filmmaking: Going Alone, Thriving and Surviving
All of her presentations include clips from her films and audience participation. Click the button below for a complete list of classes.
View complete film catalog
See list of all classes offered